Are you exhausted with unfulfilling relationships?
Do you have a hole in your heart from the loss of relationship?
Do you find it difficult to have a relationship that is healthy, loving, & supportive?
Most of us are unaware of the Soul's role in a relationship.
Relationships can be fulfilling, heartwarming and life changing. They can also be painful, destructive and debilitating.
Heal the SOUL of the Relationship First
and Healing of the Relationship will Follow
THERE IS HOPE
You Can Resolve Lifelong
Relationship Issues
Learn the formula to fixing the "Soul" of the relationship.
Identify the root cause of "why" a relationship is so painful
Heal or transform any current relationship
Let go of lifelong painful relationship memories
Discover why you're not able to attract your soulmate
Understand why "a perfect" relationship stopped working
Heal your heart from a painful relationship
Recognize your Soul's ability to help you fix it all
Learn how to re-open your closed heart
Open your heart and ensure it is never broken again
Yes, It Really Is Possible!
You can live the life of your dreams, filled with love and free of drama
ENROLL NOW
I can't believe how stuck I was
My pain-filled life could easily be a best seller. Then I took this course. Wow, I cannot belief how stuck I was. My soul has been trying to help me this whole time, but I was too busy lamenting in my own sorrows. Now I know why all this happened and more importantly, I know how to fix it. I cannot recommend this course enough.
- Megan
.
He describes the soul of relationships
Paul is one of those people who just gets it. He sees relationships from an entirely holistic perspective. He has real world experience and common sense values. His course and his consultations were priceless. I also really enjoy his daily healing membership program. I enrolled my partner in it, and now she is more fun to be with. Thank you from my heart.
- Jeff
.
Things improved quickly
The only reason I got this course was because I wanted a guy's perspective on relationship. Paul gave such unique and deep insights, that I never even considered. All the relationship problems I have been having instantly made sense once I understood that I actually attracted them to me. I used the "Soul' healing techniques and it was amazing, how quickly things turned around.
- Becca
.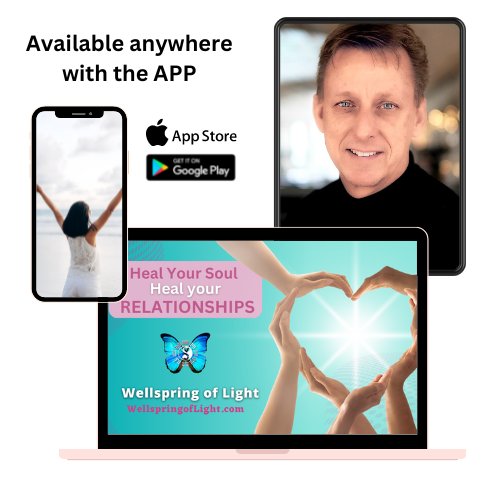 Paul Fletcher Master Teacher and Healer
Certified by Tao Academy
Over the last 30 years Paul has trained with three Enlightened Masters including his present teacher, world renowned Healer, Author, Humanitarian and founder of Tao Science and the Love Peace Harmony foundation Dr. and Master Sha.
Paul has taught 1000's of students the nature of the Soul. The origin of why a person suffers in life and how you can resolve "ANY" life challenge by addressing the root cause. Paul explains how your soul accumulates both positive and negative information in all its lifetimes, and then shows how these root... "Soul" level challenges can be quickly transformed with Tao healing.
In The Next Few Weeks, You Could…
Heal your heart and your relationships
Manifest the ideal relationship
Be happy and free of painful emotions
When you heal the "soul level' root issues you can create the ideal relationships in all areas of your life.
All life includes: Family, Partners, Co-workers, Soulmates, Friends and more
INTRODUCING
Heal Your Soul
Heal Your Relationships
Here's what you will receive...
Everything you need condensed into 9 power packed modules
Watch my video to get the specifics of each section.
The Root Cause of Relationship Pain
You are Soul have a Relationship with another Soul
Why relationships could go "Bad" after they start out "Good"
Why does the same relationship issues keep happening to me
Heal your Heart - Heal your Soul
Forgiveness brings inner peace and inner joy
How to open your heart again
Five steps to avoid making the same mistakes
Steps to Manifesting the Ideal Relationship
This One-of-a-Kind Program is For You If...
You are ready to manifest the ideal relationship
You are exhausted and done with drowning in emotional pain
You are tired of being the victim of everyone else's problems
You are ready to NEVER make the same mistakes again
You are awake enough to realize the unique value of such a powerful program
You are ready to create the life and relationship of your choice
YES, I WANT IN!
Are you Ready to Manifest your Ideal Relationships?
This special course is like nectar for the soul. I will teach you everything you need to know to forever be free of painful relationships. Not only can you heal existing relationships, you will be permanently empowered to attract much healthier ones to you.
In this course you will be able to:
Experience the love that you have longed to have

Easily Identify the "real" reason for the emotional rollercoaster in relationships

Build or rebuild and maintain an excellent relationship

Stabilize or bring mutually positive resolve to an existing relationship

Explore new ways of healing yourself with love, honor and respect
With a simple shift in your understanding and applying Tao healing you could start living the life of your dreams.
START HEALING TODAY
Here is exactly what you are going to receive in this course
9 modules representing 30 years of wisdom

21 short but POWERFUL paralife changing videos

4 PDF handouts complete with practices

3-1/2 hours of life changing "Relationship Healing" tools and techniques

Lifetime access to watch anytime you need a refresher

Access the course anytime on my special APP
Get this unique course before the price increases
Save $150 TODAY
My course has just been released.
Because my course comes with a GIFT of a 30-day Daily "Relationship Healing" Membership. Once my membership reaches 100 people. I will be REVOKING FOREVER the $150 discount .. (I can't handle more than that in my "Daily Healing" sessions.)
Be amongst the first 100 to receive $150 savings and access all 3 Special incentive TODAY
Register Today and Receive Immediate Access to all 3 Special Incentives.
* One month "Daily" Healing Membership ($125 Silver Pkg)

* Thirty Minute Private Consultation ($120 Pkg)

* Soulmate Karma Ebook ($24 Book)
30- DAY MONEY-BACK GUARANTEE
If you aren't completely satisfied with Heal Your Heart Heal Your Soul course, let us know within the first 30 days for a full refund. No questions asked.
CAN YOU THINK OF A BETTER GIFT THAN THE GIFT OF A HEALED HEART?
When you Register TODAY you will receive (3) Special Gifts valued at $269
#1 One Full month (30 days) in my Signature Membership Healing Program
My Signature Program includes "Daily Healing" for 2 request - Mon-Fri (30 min) Practice sessions - Access to recordings, Discounts on consultations and more.
Healing is much easier when you have ongoing "Daily" support to remove the negative and maximize the positive manifestation
Learn about SILVER Membership Valued @ $125
#2 Receive a 30 minute private consultation with me
Imagine - a gift of One on One time with me. You can bring your nightmare relationship situation and I will put you on the path to healing.
I am capable of accessing the records of your lifetimes with the other person. This information alone is invaluable. You can use it to heal the relationship
My fee is $120/ 30 minutes - Yours as a GIFT
#3 Receive my E-book "Soulmate Karma"
Did you know there was 10 separate conditions that collude to keep you from aligning to your Soulmate?
In this eBook you will understand all 10 and along with the relationship course be able to reverse all of them.
See all the details - Valued @ $24
Are my results guaranteed?
Can I share course info with a friend?
Do you have any incentives if I refer a friend?
I loved this course and want more! What other programs do you offer?
" I was blown away by the material in this course. For the first time in my life I was able to clearly see why and how I keep attracting the wrong partners. "
- Kathrine
" I was just exhausted from having my heart crushed. Every relationship seemed to end the same way. Now I know why, and I know how to make sure it never happens again."
- Lacey
" I started practicing the soul communication and forgiveness practices and I am already seeing huge changes in my relationship with my husband."
- Rob
Are You Finally Ready To Heal Your Relationships Once And For All
The root cause of all your relationship challenges have been relentless in creating pain in your life. Isn't it time to heal them once and for all?
HEAL YOUR SOUL - HEAL YOUR RELATIONSHIPS
Save 60% only $97 until March 31st
YOU CAN EXPECT TO
I AM READY TO HEAL NOW
I am an EXPERT when it comes to the SOUL
Paul Fletcher
Master Teacher and Tao Healer
Certified by Tao Academy
I can assure you, you will never come across the wisdom your will hear in my course. Why?
1. ALL Relationships have a soul (a recorded history) your ability to "permanently" resolve them is only possible when you heal them at the root cause.
2. I don't waste time on the "poor me" victim drama or the psychology of why things didn't work out. My 40 plus personal years of experience and 30 plus years as a spiritual adept, has prepared me as a master teacher and healer. By the end of this course you will look at every relationship through the eyes of an empowered and awakened soul.
3. Over the years, countless relationships have benefitted from the application of this wisdom and Tao healing techniques.
4. I offer special private packages to help you easily navigate each step with great success. These packages may also include Tao healing.
Contact me
https://www.wellspringoflight.com/